Taylor McIntosh Horsemanship Clinic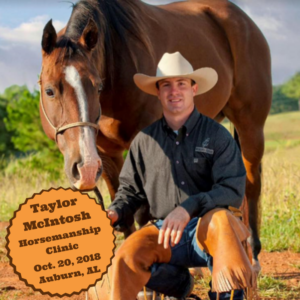 The Taylor McIntosh Horsemanship Clinic takes place October 20, 2018, in Auburn, Alabama.
Join AQHA Professional Horseman and Extreme Mustang Makeover winner, Taylor McIntosh, for a day of refining your horsemanship at Stratford Equestrian in Auburn, Alabama. Gain confidence, increase your timing and feel, and build a better partnership with your horse. Lunch will be provided for participants of the clinic.
The cost of the clinic is $150.00 and will be limited to 10 participants for a more personal clinic.
Auditors are welcome for a charge of $10.00 per day.
****ONE LUCKY PARTICIPANT WILL LEAVE THE CLINIC WITH A TWO DAY MARCH CLINIC PASS, FREE HORSE BOARD FOR THAT WEEKEND, HOTEL FOR THE SATURDAY NIGHT OF THAT CLINIC, A DINNER TICKET FOR THAT SATURDAY NIGHT, AND TWO MOVIE PASSES FOR THAT SATURDAY NIGHT!!!!! ****
To learn more about Taylor McIntosh you can visit him on the web at
http://mcintoshequine.com/
For more details and to reserve your spot contact Bayron Knight at 256-872-1535.
To see what Taylor has in store for the clinic just watch the video below:
https://www.facebook.com/AmericanHorseTalk/videos/301852473742050/UzpfSTE4Mjg0NTE3MjEzNDQ1Mjo1Nzk0NTQ3OTI0NzM0ODY/
Listen to Taylor's interview on Alabama Horse Talk.