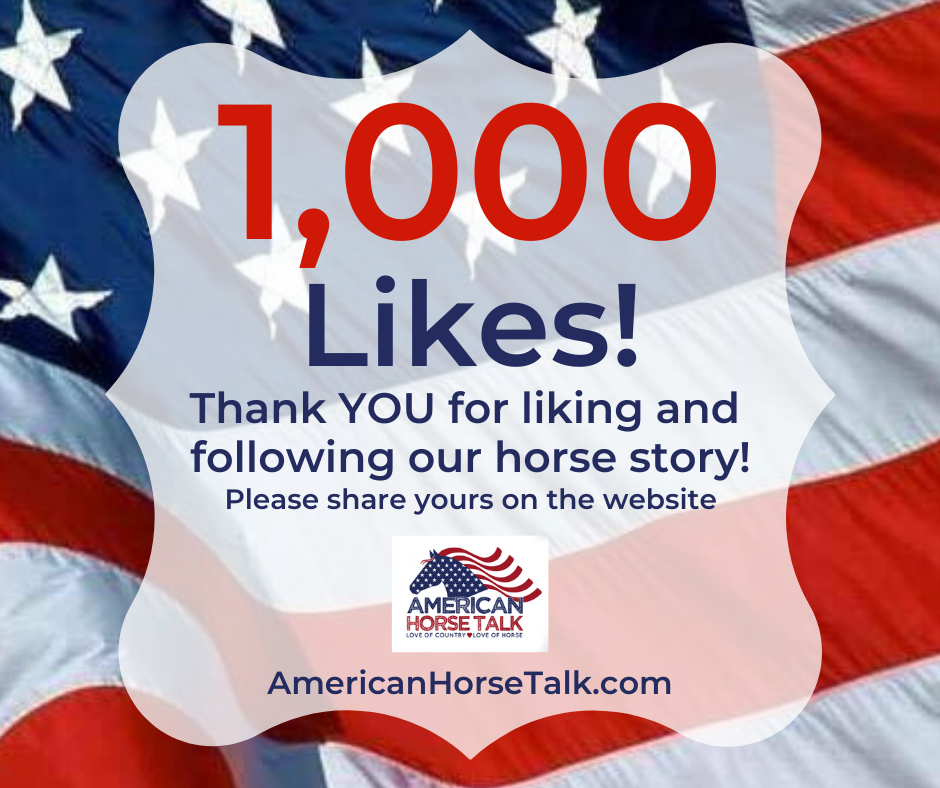 Thank you, horse friends, for your support of
American Horse Talk
! We are excited to have over 1,000 LIKES on our official PAGE.
EVERYONE has a story, and our goal is to celebrate love of country and love of horse by telling those stories to folks across the country (and the world)!
American Horse Talk
LIVE and the AmericanHorseTalk.com website features stories about horses, horse people, equine-related businesses, non-profits, and equine events.
We've talked with riders and drivers from all sorts of disciplines, clinicians, farriers, veterinarians, authors, movie producers and actors, organization leaders, business owners, event coordinators, and more. In fact, nearly 300 of them!!! Maybe YOUR HORSE STORY should be next!
You can help us reach our goals and get your word out by:
• Adding your horse friends to the
American Horse Talk
GROUP and liking the
American Horse Talk
official PAGE. The more likers and group members we have, the more we can share your horse stories with others!
• Submitting your horse story, or a friend's, on the website. This helps us reach the folks we don't know so we can learn and share their stories!
• Entering and submitting your equine events on the website. It's a FREE service to the equine community and helps you reach more people with your message. It helps us to know what's going on in the horse world! 
• Supporting us with your advertising ($5/mo PhotoLogoLinks© or $15-$25/mo Business Story Profiles). Advertising is how we make money to keep American Horse Talk going! You won't find better value!!
EVERY WEEK WE REACH THOUSANDS OF PEOPLE WHO ARE LOOKING FOR THE TYPE OF CONTENT WE SHARE ... AND WE'RE JUST GETTING STARTED.
Thanks, again, for your support and the incredible community of horse lovers you've created by interacting with us in real life and online. We appreciate and love each and every one of you!!